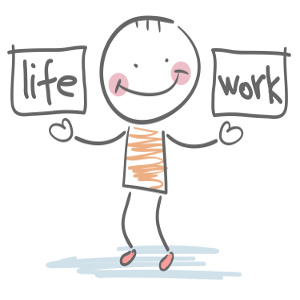 Obtaining a part-time job while in high school can be beneficial in a variety of ways, including...
TIME MANAGEMENT
MOTIVATION TO SUCCEED
RESPONSIBILITY & WORK ETHIC
SKILL DEVELOPMENT
IMPROVED COMMUNICATION
CAREER EXPLORATION
MONEY MANAGEMENT
NETWORKING OPPORTUNITIES
RESUME BUILDING
HOWEVER...

STUDENTS MUST MAINTAIN
BALANCE
AMONG ALL OF LIFE'S PRIORITIES
Successful students equally dedicate their time
to all areas of their life that are important such as...

FAMILY AND FRIENDS
SCHOOL WORK & COLLEGE/CAREER PLANNING
HEALTH | FITNESS | ATHLETICS
FAITH-BASED ACTIVITIES
EXTRACURRICULAR & VOLUNTEER INVOLVEMENT
PART-TIME EMPLOYMENT
REST & RECREATION
Monitor excessive fatigue or burnout and adjust as necessary
NECESSARY PAPERWORK
FOR STUDENTS UNDER 18
By law, students under the age of 18 must obtain a work permit.
In order to obtain a work permit, students must have their employer
fill out an Intent to Employ Form found here...
This form is signed off on by the student,
the student's parent/guardian, and the student's employer.
This is an agreement to workplace location, hours, and duties.
Please have your student return this form
COMPLETELY FILLED OUT AND SIGNED
to our Guidance Office. A work permit will then be generated within 24-48 hours.
Questions about adolescent work hour restrictions?
Consult this helpful handout...