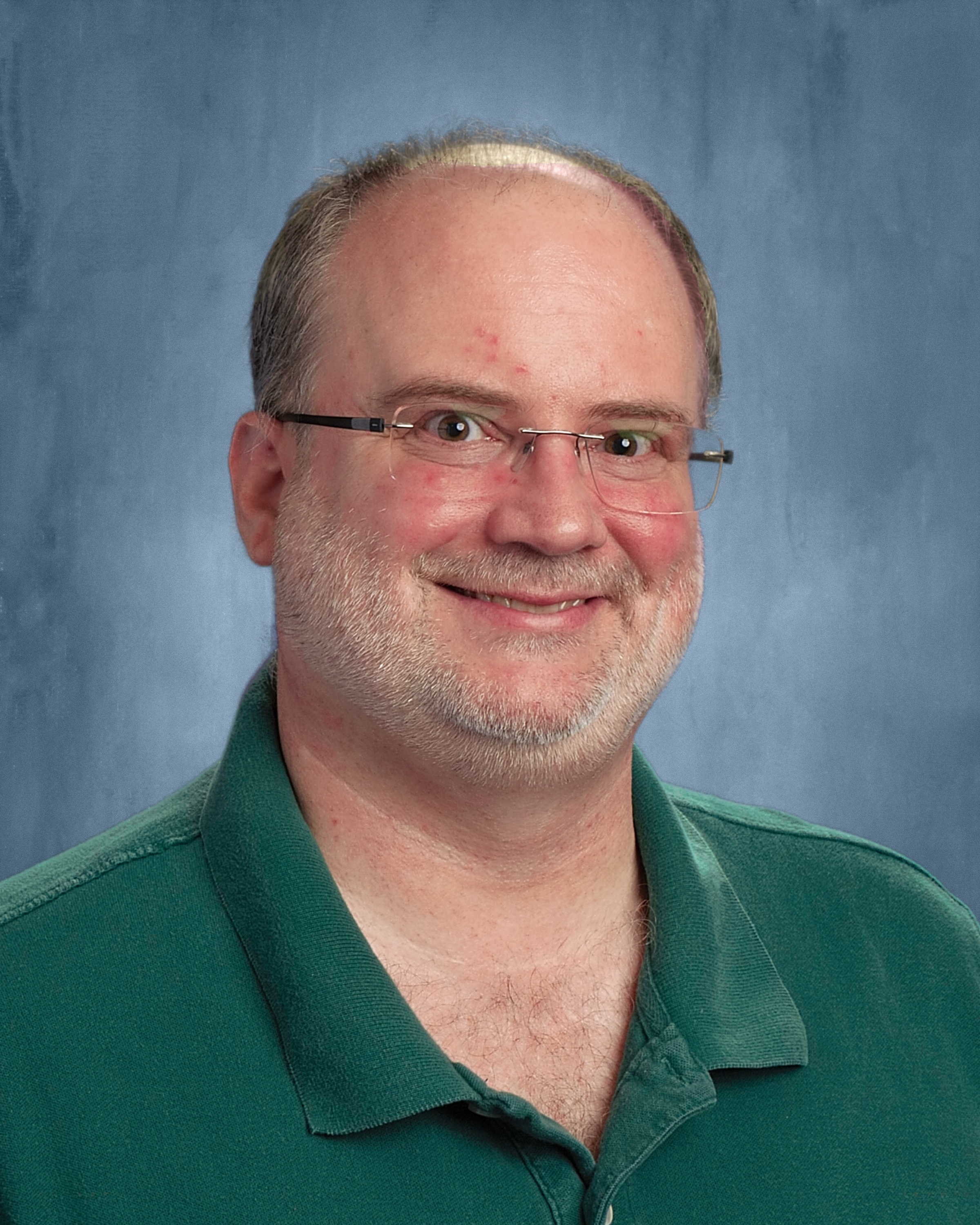 Hello, and welcome! I'm Mr. Kilburn, the librarian at Highland High School. My goal is to make the HHS Library the best library possible for our students. Feel free to email me with any questions you may have about the services and resources provided by the library.
Phone: 219-922-5610 x1030
Fax: 219-922-5636
Email: gkilburn@highland.k12.in.us
Degrees and Certifications:
Teaching License, Indiana University, Bloomington
Master of Information and Library Studies, University of Michigan, Ann Arbor
Master of Arts in Political Science, Western Michigan University, Kalamazoo
Bachelor of Arts - Cum Laude, Western Michigan University, Kalamazoo
AV Media Services
Email avrequest@highland.k12.in.us if you have questions about Safari Montage, the HS video collection, using the Innovation Space, or questions about using the Green Screen, GarageBand, iMovie, or any traditional AV equipment.

Email the Help Desk if you have questions about projectors, iPads, MacBooks, computers or peripherals.
| | |
| --- | --- |
| Monday | 7:40-3:10 |
| Tuesday | 7:40-3:10 |
| Wednesday | 7:40-2:25 |
| Thursday | 7:40-3:10 |
| Friday | 7:40-3:00 |
The librarian is unavailable during the following times:
Lunch: 11:00-11:30am (10:45-11:15am Wednesdays)
Break: 9:30-9:45am
Break: 1:30-1:45pm
All times are approximate due to available coverage.
There are times when, due to circumstances, the library will be closed.
| Format | Loan Period | Overdue Fines |
| --- | --- | --- |
| Books | 2 weeks with 2 renewals | $0.05 per book per school day |
| Reference | In Library Use Only | Not Applicable |
| Magazines | Online Only | Not Applicable |
| Overnight | Overnight with 2 renewals | $0.30 per item per school day |
| AV Materials | In School Use Only | Not Applicable |
Miscellaneous Overnight checkouts are due before school on the following school day. An overnight item must be returned no later than 3:00 p.m. on the day the item is due to prevent the accrual of late fines.
Any items checked out may be renewed via Atriuum, our online catalog. Your staff/student number is your ID & password. Items may also be renewed in-person. You don't need to bring your items to the library to be renewed.
A total of 5 items of each format may be checked out by a patron at any given time.Newspapers and magazines are only available digitally.
Students may check out materials using their student ID card, or by providing their student number.
All students are issued new ID cards at no charge at the beginning of the school year. Replacement cards cost $5.00, and are taken before or after school and during lunch..
Photocopies are $0.05 per page copied. The library operates in compliance with U.S. Copyright Law (Title 17 USC).
Library Rules of Conduct
Students who utilize the library are subject to the guidelines established in the Parent/Student Handbook, as well as the following expectations.
Expectations Specific to the Library
The library is intended for quiet study, recreational reading, research, and other academic purposes.
Conversations should be conducted quietly, and with consideration for others who are using the library.
3. Eating is not allowed.
4. Students who are disruptive will be returned to their class or study hall.
5. Violation of the Rules of Conduct or Parent/Student Handbook may result in the temporary or permanent loss of library privileges.
The library offers a wide range of services to students and staff that extends well beyond our collection of print books. The Library Services link provides a convenient and comprehensive list of the services offered by the library.
Passes to the Library
Passes are not needed before school, after school, or during lunch.

All students, whether from a class or on a student aide assignment, must present a pass upon entering the library.

Students are to sign in when entering the library. The library retains passes on-file until the end of the school year.

Students are to remain in the library for the entire period once signed in unless their teacher specifies otherwise on the pass.

A teacher may send a maximum of five (05) students from an academic class to the library on a pass. Study halls are limited to four (04) students. Teachers should arrange a class visit if more than five (05) students need to come to the library during any one period.

Study hall students must follow the established procedure for accessing the library during study hall. The procedure is posted in the library and available below.
Library Access for Study Hall Students
The library is for quiet study, research, or recreational reading only. Socializing and non-academic activities are not appropriate for the library.

Students who need to access the library during their study hall must obtain a pass from their study hall teacher.

There is a firm limit of four (04) students who may be sent to the library on a pass from a study hall. If more than four students want to sign up at one time, there is an agreed upon order of priority for student signups:

1. Students with an academic need to use library resources not available in study hall.

2. Students who would like to study quietly, read or check out a book in the library.

3. Students who would like to use the library for a personal research project or topic of study.

There will be times when the library is closed or otherwise unavailable to study hall students. This is usually due to use by academic classes, reservations by other groups, or sudden schedule changes. Study halls will be notified via email as soon as possible when the library will not be available. A student with an academic need requiring library access during times when the library is closed may be issued a pass at the discretion of the librarian.

Violation of the Rules of Conduct or Parent/Student Handbook may result in the temporary or permanent loss of library privileges.
The Library's Innovation Space provides students and staff with two types of collaboration space.
Creation & Maker Space
The Creation & Maker Space is workspace that is available for students to work either individually, or collaboratively as a group.
» Students can create and make the final product for their project or presentation.
» In keeping with the mission of the Library Media Center, students are able to create and edit digital audio, digital images, and digital video projects. A green screen is also available to assist with creating videos.
» Craft supplies traditionally provided by the HHS library are also available. Supplies include color paper, glue sticks, markers, crayons, colored pencils, stencils, and basic office supplies such as a stapler, scissors, paper clips, and tape. The library does not provide school supplies, poster boards, or other items that students are traditionally expected to supply from home.
Click on the AV-Media Resources link on the left side-bar for help with locating Apps and other tools for working with digital media, as well as sources for digital audio, photos, and video that are copyright free or licensed under a copyright commons license.

Planning & Presentation Space
The Planning & Presentation Space is available for group projects, presentations, or quiet study.
» Groups can plan and organize projects in a dedicated space designed to facilitate group work.
» Individuals or groups can either give practice presentations, or make a presentation to a small group in a professional conference room setting. The library and the LGI are available for larger presentations.
» When groups aren't using the space it will be available for reading and quiet study.